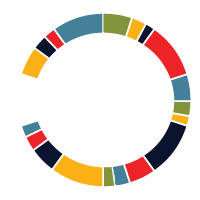 Research and Dissemination to Inform Policies, Processes, and Practice
Social Determinants
of Health
Social & Emotional Climate
The social and emotional climate of a school can impact student engagement, relationships, and learning. A positively-focused school climate promotes a safe and supporting learning environment.
Physical Environment
The school physical environment includes the building and its contents the land areas encompassing and surrounding it. The everyday physical condition (e.g. ventilation, moisture, temperature, lighting, noise), is important as well as considerations regarding infrastructure that addresses natural (e.g. fire, wind, flood) and human-caused (e.g. chemical, terrorist, biological) threats.
Physical Education & Physical Activity
Healthy school environments offer many opportunities for physical activity throughout the day. These activities can include a comprehensive program to address student learning (i.e., education) and practice (i.e., activity) of skills needed to maintain physically active lifestyles through childhood and into adulthood.
Nutrition Environment & Services
The nutrition environment in schools facilitates healthy eating by providing appropriate food choices, education, and messages. This environment extends to all school places in which food and beverage access is available (e.g. cafeterias, vending machines, classrooms). Nutrition services in schools provide meals that meet government nutrition standards and the school community supports a healthy nutrition environment.
Health Services
Health services in schools work to prevent health problems as well as intervene with existing conditions. For example, parent and student education exists along with management of chronic conditions and emergency care. Care coordination and communication with outside providers is an important role for health services.
Family Engagement
Family-school partnerships are essential to supporting the learning and health needs of students. It is the shared responsibility of both to work together across the lifespan in facilitating successful development of students.
Health Education
Health education includes a combination of planned learning opportunities to help students make positive health decisions. High-quality instruction engages students across a developmental continuum in learning about, adopting, and promoting healthy behaviors – see for example the Michigan Model for Health. Health education includes school-wide to individualized opportunities, identified based on needs of particular contexts, that are both formal (e.g. curriculum) and informal (e.g. public service announcements, conservations).
Employee Wellness
Fostering health in the workplace results in not only healthy school employees but also supports student health as healthy employees are more productive and better able to do their job in attending to student needs. An effective employee wellness approach includes programs, policies, benefits, and supports in order to address health through personalized health programs (e.g. healthy eating, stress management) across a continuum of prevention through intervention
Counseling, Psychological, & Social Services
These services support the social, emotional, behavioral, and mental health of students, and extend along a continuum of prevention through intervention strategies that identify and address barriers to learning. School employed professionals such as school psychologists, school counselors, and school social workers provide direct services to individual students and families as well as classes and schools as a whole. In addition, referral and consultation with community providers is important in the coordination of services.
Community Involvement
Groups, organizations, and businesses within the community can be important anchors to a school, creating partnerships, sharing resources, and volunteering to support student learning and health. Not only can schools benefit from these connections, but these benefits can be reciprocal such as when schools share facilities with the community (e.g. school-based health centers, meeting spaces, library sharing) and coordinate to disseminate information about resources and services available within the community.